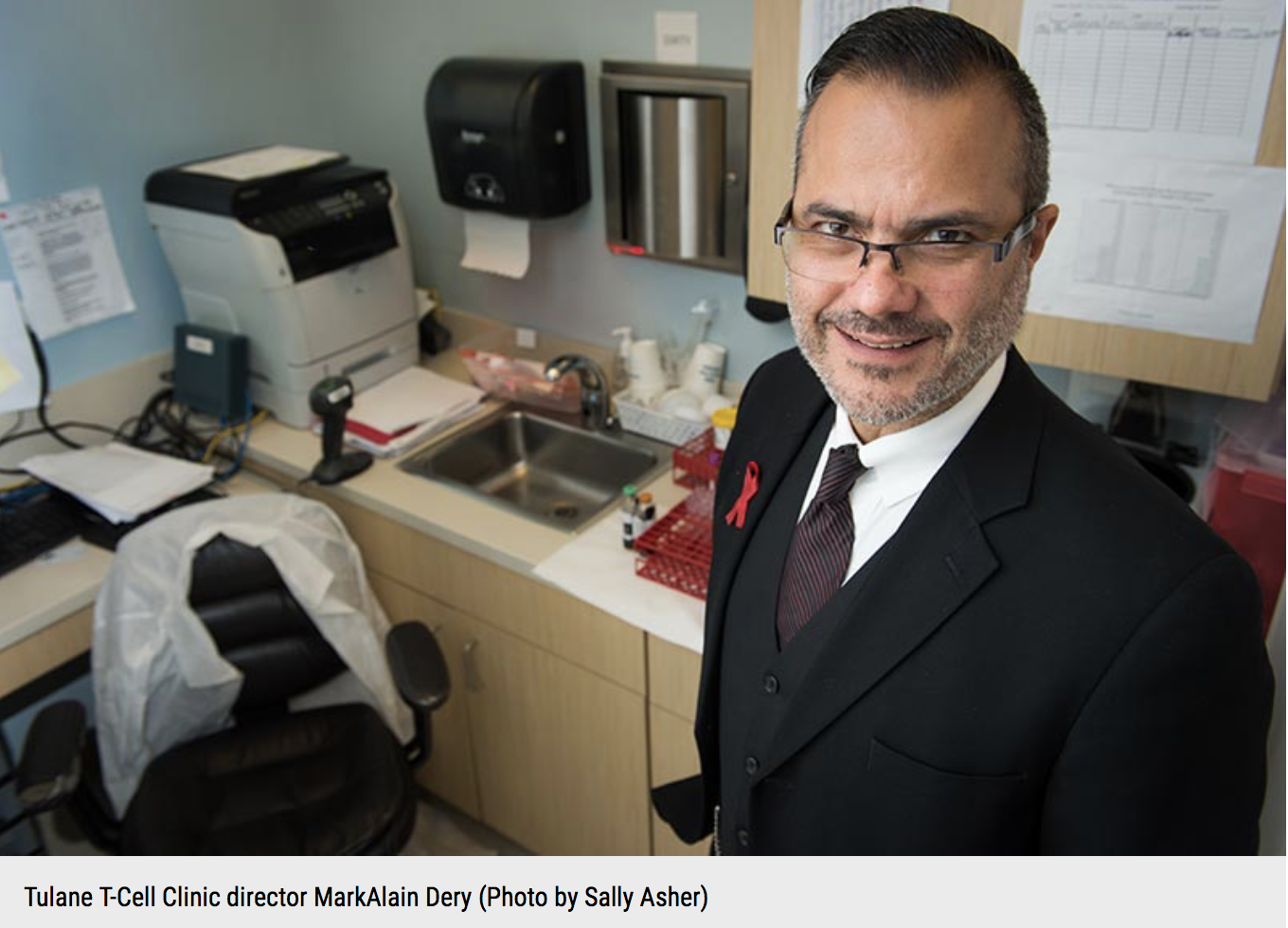 Dr. Dery and his HIV clinic featured in TIME Magazine
Very little about Dr. MarkAlain Dery could be described as ordinary. The HIV specialist at Tulane University in New Orleans favors three-piece suits and French-cuff shirts to white coats, khakis and Crocs. Under his shirtsleeves, his arms are a canvas for tattoos–a fleur-de-lis, an old-school radio microphone, a sexy portrait of his wife. Standard modes of transportation aren't for him, either. Stashed in the corner of his office is the four-wheeler he uses to get around town: his skateboard.
Dr. MarkAlain Dery and Liana Elliott; Co-Founders of WHIV.
While sitting in a rickshaw in Cambodia, MarkAlain Dery listened to a podcast news story about low power FM (LPFM) radio stations. Dery immediately thought of the ways such a station could benefit New Orleans. After learning New Orleans was slated to get four of these stations, Dery claimed 102.3 FM when he returned home. With support from his wife and Co-Founder, Liana Elliott, WHIV was launched.

New Kid On The Radio: 102.3 FM WHIV-LP
When I first heard it, the name kind of threw me off: a musician was in the OffBeat office recently and told me he had a show on a local radio station, WHIV-FM (102.3). A radio station named after HIV? ...by giving the station the call letters, Dr. Dery says he's trying to de-stigmatize the perception of "HIV"...
New community radio station WHIV-FM plans to raise awareness over the airwaves
In the statement, NOSIDA executive director Dr. MarkAlain Dery said the content won't be fully dedicated to HIV/AIDS issues; it will combine news and talk programming of local interest with music. The call letters, he said, reflect the group's mission to raise HIV/AIDS awareness and decrease the stigma still associated with the disease.
Full Article HERE
Making airwaves for social justice
Dr. Dery, assistant professor of medicine at Tulane, called the station WHIV because he wanted the letters repeated over and over to destigmatize HIV and build awareness of the disease. But HIV awareness is only part of the station's story.
"Contemporary radio is corporate radio," says Dery. "… Community radio 'for the community, by the community' is a concept that has been replaced with just a few voices that continue to support the power structure. WHIV is committed to providing programming dedicated to human rights and social justice."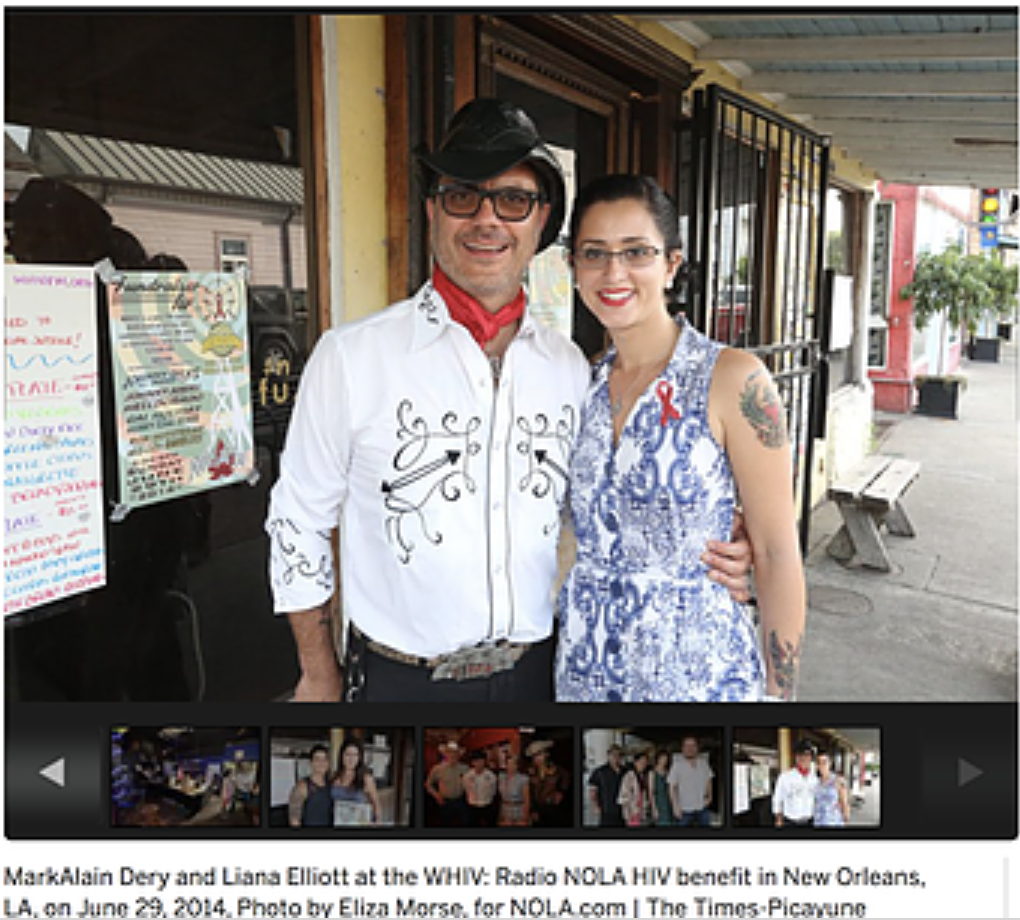 WHIV: 102.3 FM New Orleans radio raises funds aiming to hit the airwaves 12/1/14
The city is about to get another community radio station when Radio WHIV: 102.3 FM: Programming Dedicated to Human Rights and Social Justice becomes operational on Dec. 1. For Dr. MarkAlain Dery, the executive director of New Orleans Society for Infectious Disease Awareness (NOSIDA), this date is significant as it is also World AIDS Day. WHIV is NOSIDA's low-watt radio station (it will stream online, too) and it won't just dedicate its programming to HIV/AIDS issues. It also will have news, talk radio, and music...
Radio NOLA HIV: A community radio station
The new radio station on the air has a format unlike any other. It's called "Radio NOLA HIV," known by its call letters, WHIV.
That's not all the station will offer. It's 24/7 coverage is dedicated to bringing human rights and social justice to the forefront -- and giving people a voice.
"It's community radio. And community radio is the voice of democracy, and that's what we're trying to do with WHIV," Dery says.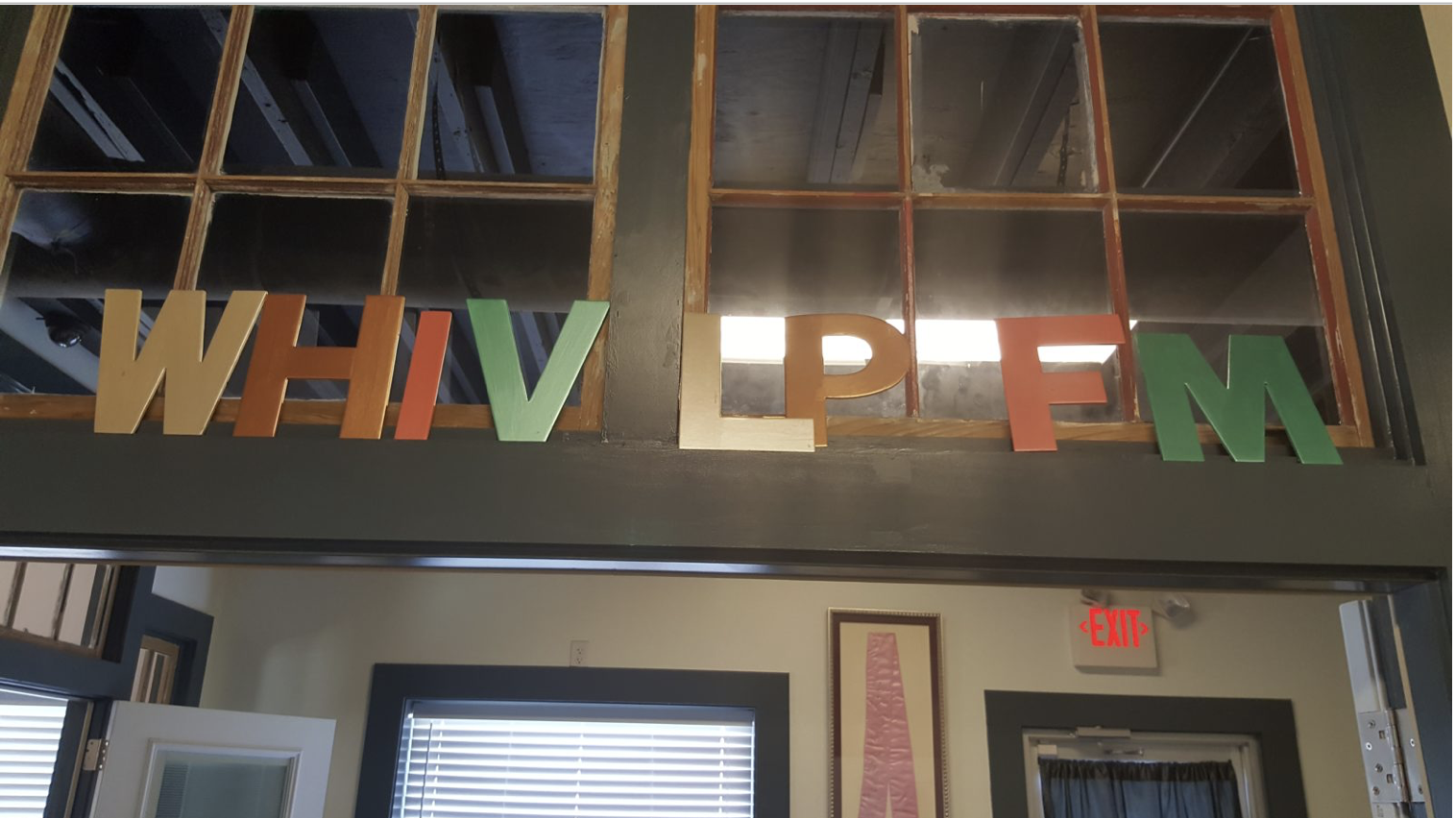 WHIV: Community Activists Contest Media Power
Low power public radio station WHIV (102.3 FM) offers New Orleans community activists a human rights and social justice platform through which they unify local and global communities, while challenging corporate media power. WHIV was formed in 2013 by infectious disease physician and medical school professor Dr. MarkAlain Dery...
Graduate student uses radio to promote public health
David Roston's voice is calm and collected as he welcomes listeners to his radio show. The program, 'NOLA Matters - The Public Health Radio Hour', airs weekly on the community radio station 102.3 WHIV-FM in New Orleans.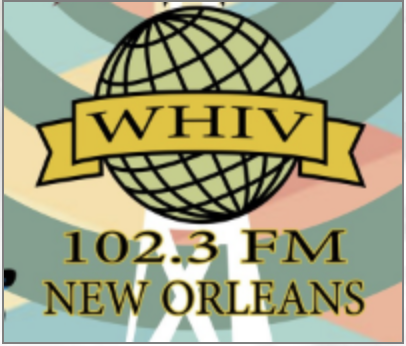 TUNER TWOFER
Delgado, WHIV Plan New FM Radio Stations in New Orleans
Dr. Dery had only one choice for his station's name, which will broadcast at FM 102.3. "I'm an HIV doctor. I got to name the station. I called it WHIV"...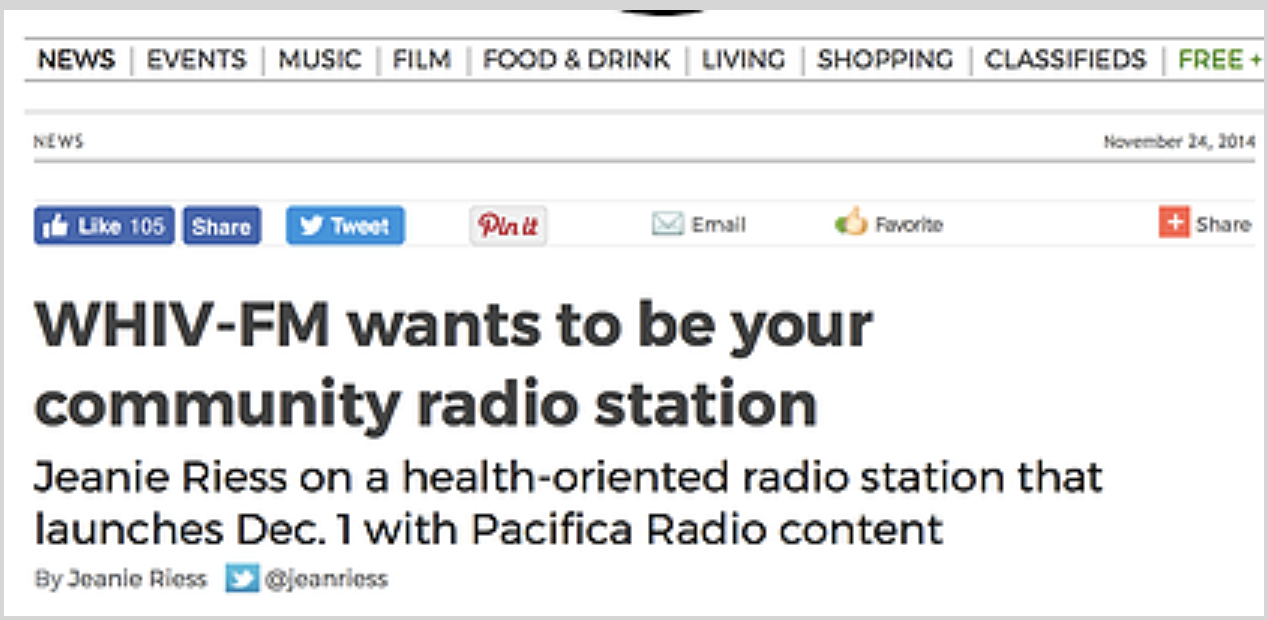 WHIV-FM wants to be your community radio station
For Dr. MarkAlain Dery, an infectious disease doctor and social justice activist in New Orleans, HIV infection is endemic of racial, economic and societal injustice because it is prevalent at the intersection of poverty, homelessness, lack of education and incidence of sexually transmitted infections. That's one reason why New Orleans has one of the highest rates of the disease in the U.S., he says...
Low-power FM radio shares community voices
WHIV is dedicated to sharing stories and conversations around AIDS and HIV. The station's mission is to break down the stigma that has contributed to HIV's spread — even just saying the letters "HIV" when identifying the station is designed to combat shameful silence about the disease. WHIV also has more general goals of including marginalized communities and highlighting independent New Orleans musicians.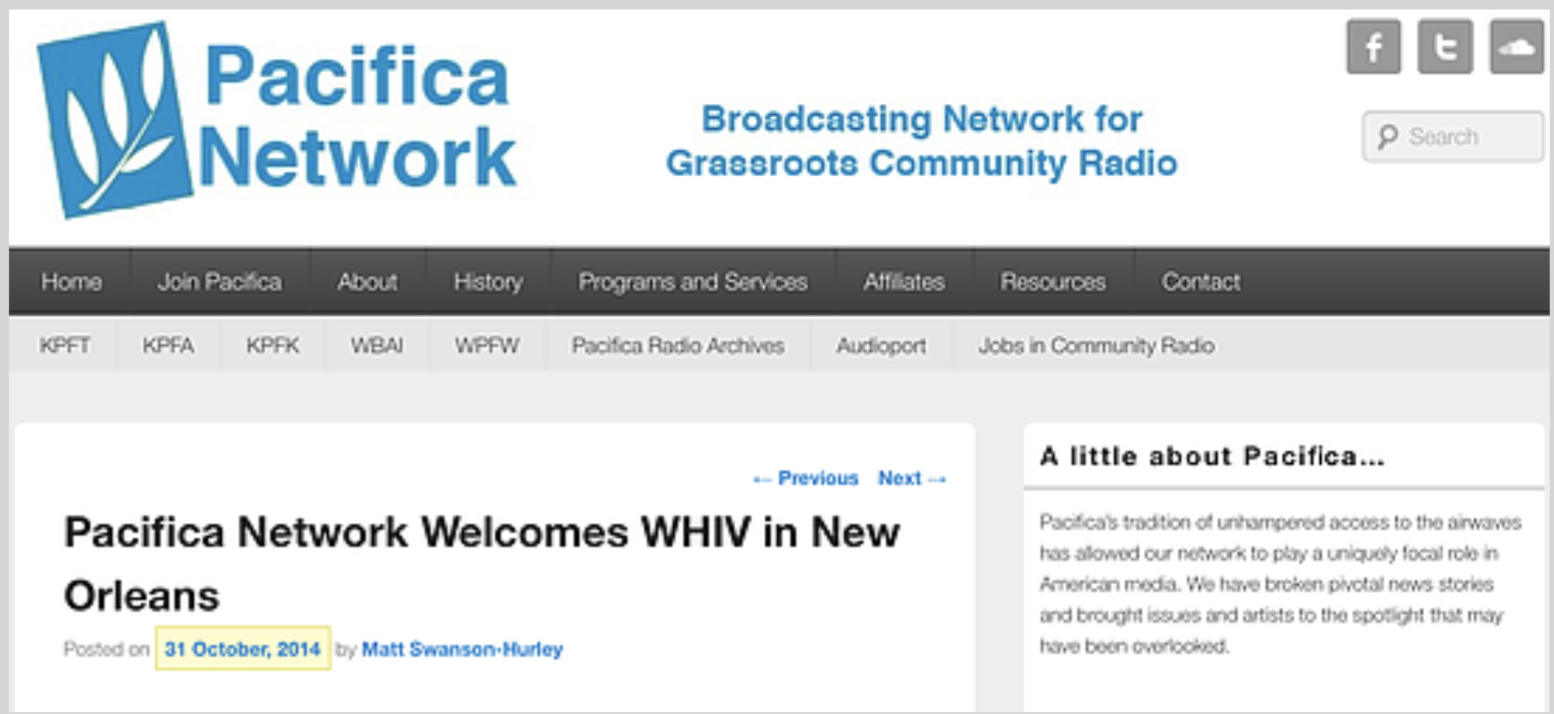 Pacifica Network Welcomes WHIV in New Orleans
Part of WHIV's legal name, which also shares its objective, is, "Programming Dedicated to Human Rights and Social Justice," and programming features health, safety, and social issues news and talk programming of local interest with music.

Human Rights and Social Justice Programming
A new New Orleans radio station is scheduled to hit the airways by World AIDS Day on Dec. 1, 2014.
WHIV 102.3 FM, will offer programming dedicated to human rights and social justice.